E.ITEC
---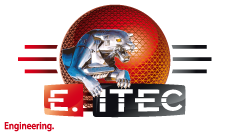 E.ITEC (Франция) – производство водоохлаждаемых кабелей и элементов короткой сети для ДСП и установок печь-ковш.

E.ITEC ® is an SME with an international scope, created in 2000, head of a group including several subsidiaries in France and abroad.

Standart Products:
- Flexibles on transformer
- Transformer secondary tubes
- Water-cooled cables
ARC.ITEC ™ water-cooled cables cover a large range dedicated to each application or business sectors : arc furnaces, ladle furnaces, induction furnaces, plasma furnaces, glass furnaces, steel making, electrometallurgy, graphitization refractories, etc.

- Auto-conductive arms
- Pads and electrode clamps
- Insulating parts
- Support system

All standart products are designed for an optimal electrical efficiency of the circuit by taking ito account mechanical stress and furnace environment. They are adapted to most of the layots for currents from 10 000 to 100 000 A, and can however be customized for particular applications.


Please fill in the enquiry form below. Please note! B2B enquiries only.